The Open Budget Survey is a comprehensive analysis and survey that evaluates whether governments give the public access to budget information and opportunities to participate in the budget process at a national level. Open Knowledge Foundation worked with International Budget Partnership (IBP) to build an interactive Data Explorer that allows users to visualise and interact with the data from current and previous surveys in a number of different ways. This gives insight into the progress of individual countries in the area of budget transparency and allows for detailed comparison and analysis across rankings as well as transparency as to how rankings and scores are calculated.
Opportunity
How transparent and accountable are different countries' national budgets? Every two years, the International Budget Partnership (IBP) runs the Open Budget Survey: the world's only independent, comparative assessment of the three pillars of public budget accountability: transparency, oversight and public participation to try to answer this question, by measuring the budgets of 115 countries against a wide range of openness standards.
Around the world, there has been a decline in public trust in government, in part due to instances of corruption but also because of dramatic increases in inequality. In many countries, leaders who have disguised their intolerant and reactionary agendas with populist rhetoric have been swept into power driving out many government champions of transparency and accountability — especially in the global south. More broadly across countries, there has been shrinking of civic space, rollbacks of media freedoms, and a crackdown on those who seek to hold government to account, including individual activists, civil society organizations, and journalists.
Open and accountable public budgeting is at the center of democratic practice and equity and is the first place we should look for ways to strengthen the interaction between governments and citizens. Ensuring that the budgeting process is characterised by high levels of transparency, appropriate checks and balances, and opportunities for public participation is key to stemming the decline in confidence in government and representative democracy.
The opportunity presented here is a key one for Open Knowledge Foundation. How can we utilise design and technology to allow citizens to gain as much useful insight as possible from published Open Data and do so in a way which allows for the individual to navigate their own way though the data to inform and gain insight which can be used to hold governments to account and open up ways of thinking about problems in new ways?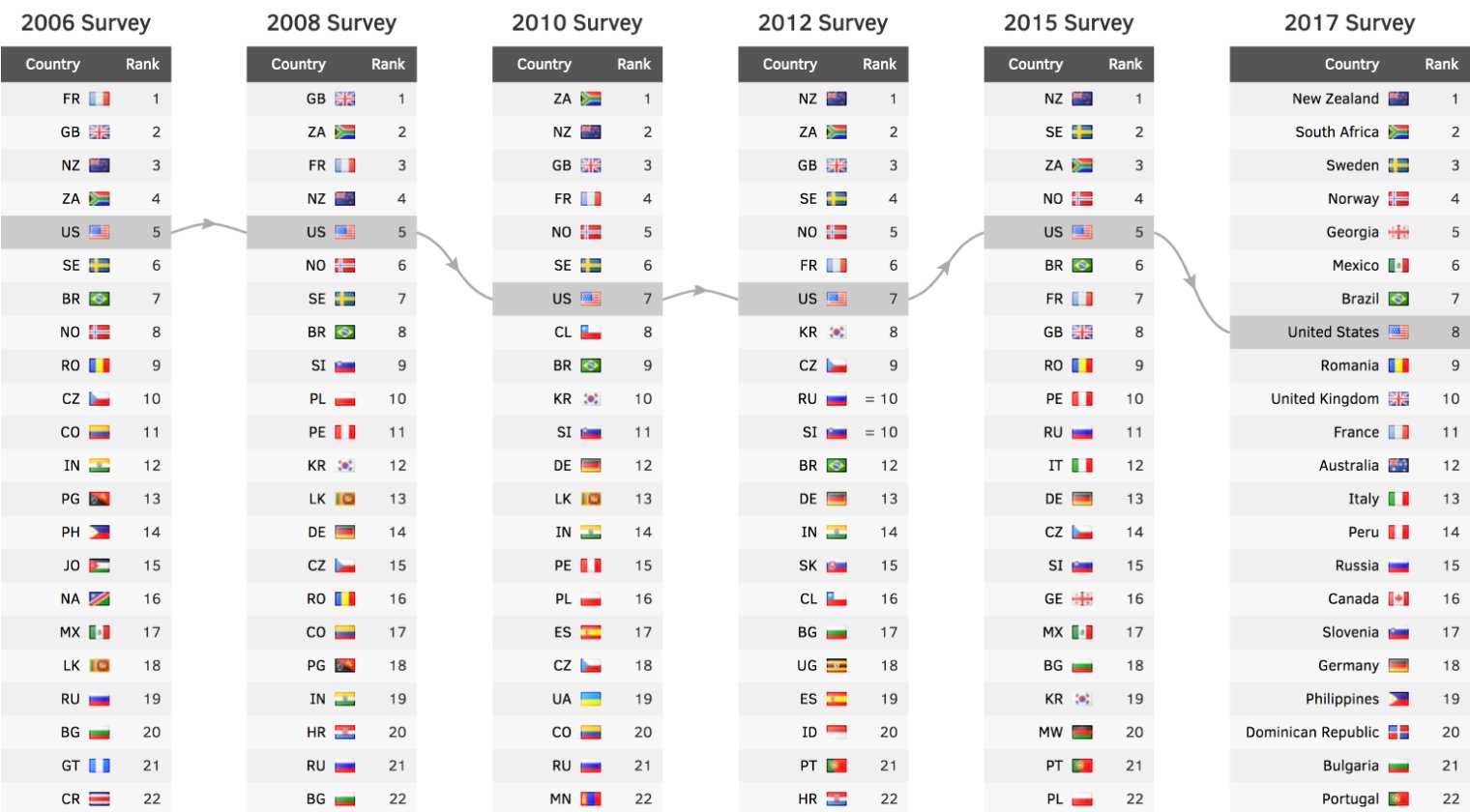 The Timeline page allows you to view a selected country's progress over time by measuring either ranking, or index score.
How we helped
The Open Budget Survey is published alongside an interactive Data Explorer developed by Open Knowledge Foundation, which allows users to visualise the data from current and previous surveys.
The Data Explorer application demonstrates our team's skills in presenting complex data via simple user interfaces. User's can interact with current, historical, and comparative data via a range of interfaces, and get customised downloads for offline analysis, all via a simple and discoverable user experience.
A map view shows the changing geography of openness over the six surveys, while a timeline shows the movements of individual countries over the same period. A more detailed page of rankings shows graphically how each country's score is calculated. A datasheet for each country presents the full data, letting the user see how it has performed on each test in every survey. Users can also generate custom reports, or download the entire dataset. Another useful feature allows users to see how a country's score might change for the next survey. You can decide what changes to make to your chosen country's budget systems, and the change that would result to its openness score is shown.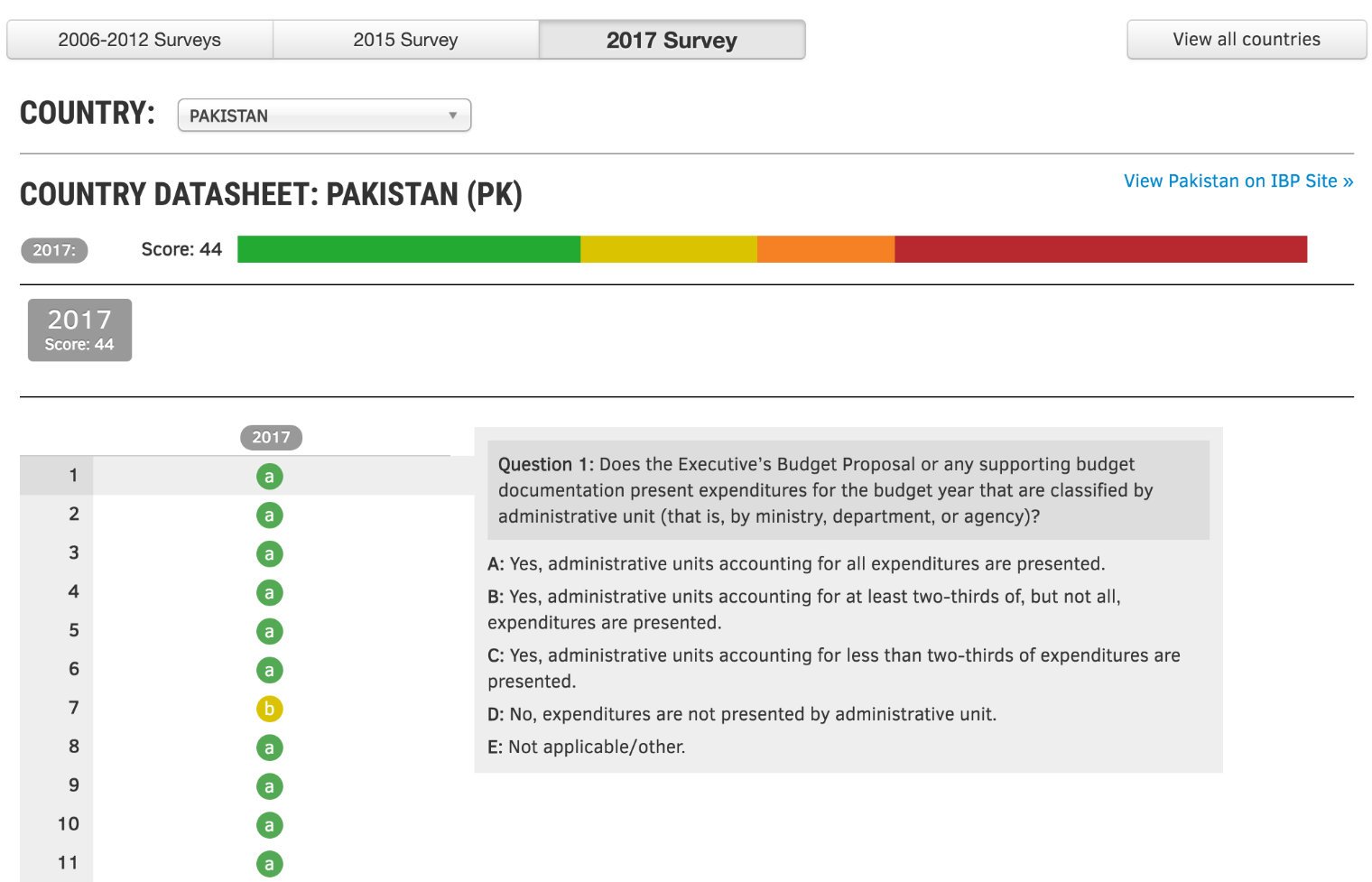 A page for each country included in the survey breaks down the ranking by showing the answers to the survey questions.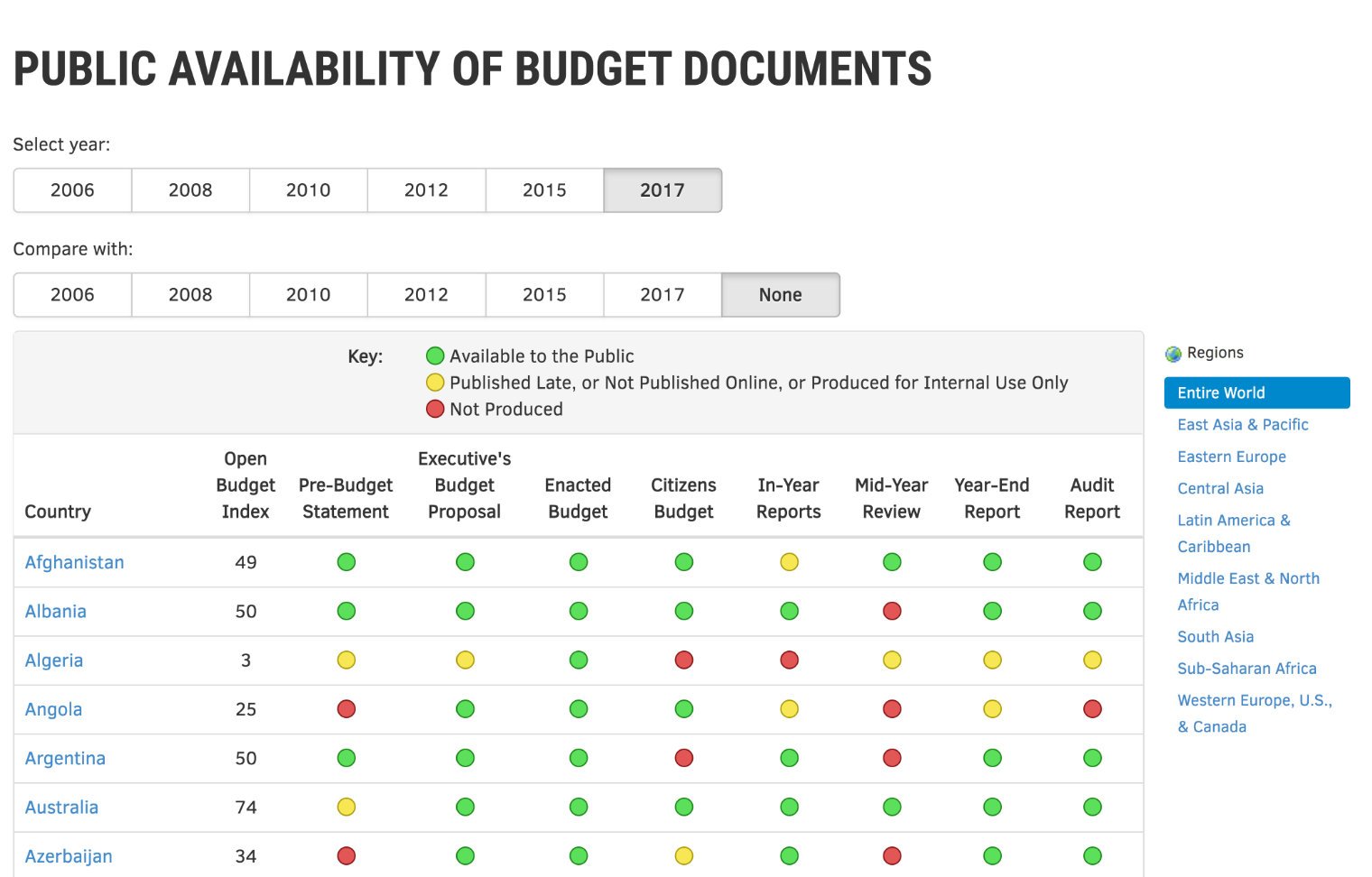 The Document Availability tab allows users to explore the public availability of budget documents and compare across the different surveys that have been taken place.
Results
Since 2012, the survey explorer has been an essential companion to the Open Budget Survey and this is set to continue for many years to come. Along with the Open Budget Survey Tracker, also built by OKF, it provides the essential tools to help IBP and others utilise the power behind their published data in support of their mission.
At a high level, the explorer gives voice and meaning to the raw data collected by the survey and the results show that there is much work to be done.  Although overall global transparency has declined from 2015, the level of transparency remains well above where it was a decade ago and published documents contain slightly more information now than they did in previous years. Our ability to see the progress is enabled by the detail of the information that is visualised using the survey and explorer - not only are we measuring the existence of open data - more, we are measuring it at a the detail necessary to really assess its usefulness.
The message is clear that any government, irrespective of region or culture, can become more transparent. The vast majority of countries could quickly improve transparency by making documents they already produce publicly available, and the explorer is an important tool governments can use to identify where they can make improvements. We are supporting governments in their open data policies while at the same time giving power to organisations such as IBP, that hold these governments to account.
There are many great examples of surveys being used to measure the state of various measures of progress around the world and there are huge opportunities to improve the usefulness of these surveys with initiatives like the Survey Explorer. The work was a direct inspiration for the Right to Education Index website, also produced by OKF, that gives a way to explore the data of another survey designed to ensure that all people, no matter where they live, can enjoy their right to a quality education.